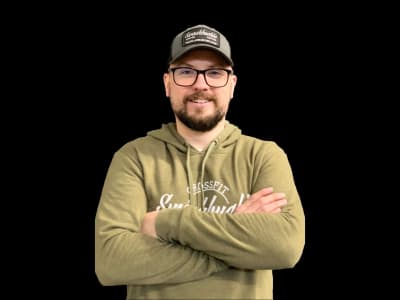 Jarrid
CrossFit Level-1 Trainer

Served in the Army as an Unmanned Aircraft Systems Operator

Spartan Trifecta Finisher 2019





"Everybody needs two things… Jesus and CrossFit…". Jarrid Hawkins





I said that as a joke at my level 1 seminar, but I think it is true.





After getting out of the Army in 2014, I worked my way into my dream job as the Minister to Students at First Baptist Church in Rockwall, but I slowly put on weight and became increasingly unhealthy. My poor lifestyle choices (specifically food and exercise) caught up to me when I carried my (then) 2-year old up the stairs and realized that I couldn't get down on the floor and play with her because I was physically out of breath. I had put on 50lbs since coming back from my best shape after a year in Iraq. I decided on July 3, 2018, to make a change.





I discovered CrossFit when my good friend Blake (who's also a coach here) caught me watching the CrossFit Games on Facebook in August of 2018. I thought, "once I get in shape, I'd like to do that." Thankfully he didn't accept that answer. My first day was a "bring-a-friend" in August of 2018. I bought into the process, into the proven methods, and the community. Since then I've dropped over 30lbs, I am more fit than I ever have been, I'm doing competitions with some great friends/including Spartan Races, and most importantly I'm down on the floor playing with my kids. I love CrossFit, and when the opportunity came up to become a coach, I didn't hesitate. I hope to help anyone on this journey or one similar that wants it!!